I've wanted to get back in to blogging for a while; partly to brush up on my writing skills and partly to get some sort of recent online presence again. I've found my use of Twitter dwindle, but perhaps posting these posts up there will engage my followers?
For the next few weeks I'm going to make posts with five things I've found interesting/good/useful.
This year, for the first time, I've managed to see all the nominees for Best Picture at the Oscars. Parasite was definitely up there with the best; I also really enjoyed 1917. My least favourite was Joker, which I just couldn't get behind. Parasite was a great combination of comedy and tragedy. See Mark Kermode's review over at The Guardian.
Anyone who has visited me in Manchester will have been dragged to Pollen at some point. It's my favourite bakery, making everything with sourdough (yes, even the pastry). It sates my desire for Danish pastry (or wienerbrød as it is known in Denmark) and they even sell Danish style rye bread. I've scaled back my home baking recently, but it's always a treat to head to Pollen for some brunch and have a chat with them about different flours and styles of bread. (I do miss the time when they were based in a railway arch and I would regularly queue for half an hour on Saturday morning to get the elusive Cruffin).
For a while I kept acquiring dead-tree programming books, many of which I only gave a cursory read. I eventually joined O'Reilly Safari on one of their big discounts. I heard later (via Martin Kleppman) that if you join the Association of Computing Machinery, you also have access to Safari. I've been a member ever since, and while I still don't have the patience to read many books cover to cover, it feels like the best tech library I could wish for. ACM Membership is $100, quite a discount over Safari.
This podcast episode was informative and entertaining (Kelsey usually is worth paying attention to). In particular, I enjoyed his rant about microservices. They have exploded in popularity over the past 5 years, but as he describes here I'm not convinced we should give up on well-crafted monoliths.
5. Aldi's Organic Apple Cider Vinegar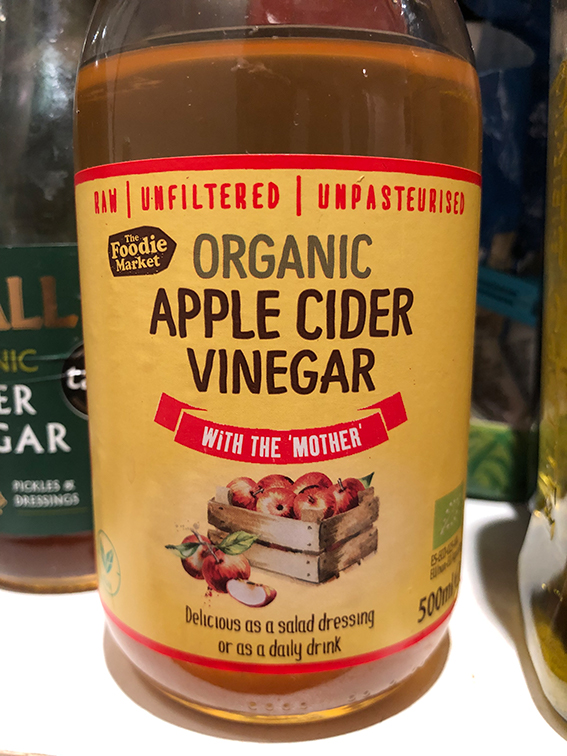 I don't want these posts to become an ad for Aldi, but I think it's worth pointing out a good product when I find one. This week's is their organic unfiltered cider vinegar. I've started making a drink with a teaspoon of this, a teaspoon of lemon juice and cold water. It's a refreshing way to start the day, and apparently has many health benefits too.